Residential Painting Projects
Don Campbell Painting offers free estimates and services Simcoe County as well as most surrounding areas outside of Simcoe County.
Once the customer decides they agree with our quote and the job description is discussed, a written estimate is given to the customer outlining the job requested as well as the price agreed upon.
Benjamin Moore paint products are our product of choice, however, we are willing to use any product the customer prefers and this would be discussed at the time of the estimate.
When our crew first begins any residential project, we move large furniture towards the center of the room. Everything is then sheeted off with plastic and the floor areas covered in tarps. The only responsibility asked of the customer is to remove any precious objects and décor from the worksite area. Once the job is completed, any furniture our crew moved is then moved back and the work area is tidied up before we leave.
Our residential painting prices normally include an application of 2 coats with a sanding in between each coat. This, of course, is dependent on what our customer requests at the time of the estimate.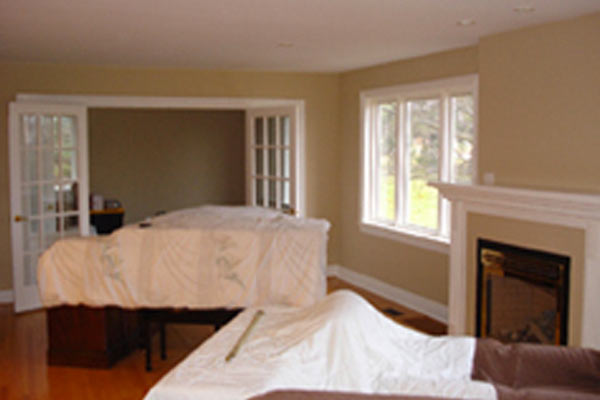 Drywall Repairs
Whether you have water damage, nail pops, uneven drywall or had to cut holes in your drywall for any reason, Don Campbell Painting is experienced to repair these areas to make them look new again.
Most drywall patches can be done within one day depending on the extent of damage. This allows you as a home owner or business owner to get back to day-­‐to-­‐day life as usual.
Stucco Repairs
When stucco ceilings get water damage the stucco tends to peel leaving a mess on the ceiling. With out the right equipment and expertise it is very difficult to repair these areas. Don Campbell Painting has the experience to fix these trouble areas, whether the drywall needs to be replaced first or just repaired.
We will finish it with a stucco finish that matches the existing stucco as close as possible.
Stucco Removal… Without The Mess!!
Now offering a quick and clean way of removing your unwanted, dated stucco.
The old system to remove stucco was to wet the stucco and scrape it off by hand. This way is effective however very messy and slow. Our system is a combination of sanding and dust extraction resulting in a better product with very little mess.
We will remove the stucco, prime the ceiling to reveal any imperfections that need to be fixed, fix these areas and then finish the ceiling with ceiling paint.