Residential
Don Campbell Painting services homes in Barrie and surrounding areas.
We are happy to offer free estimates. This includes coming out to your home so we can meet in person, discuss the details of the job, as well as your time and budget parameters. Following this, we will provide a written quote sent to your email.
Benjamin Moore paint products are our product of choice however, we are willing to use any product you prefer. This would be discussed at the initial meeting
When you choose Don Campbell Painting you can have peace of mind knowing you have chosen professional painters that treat your home with the greatest care.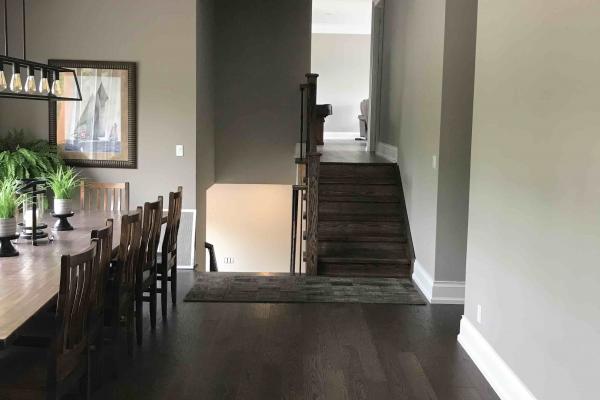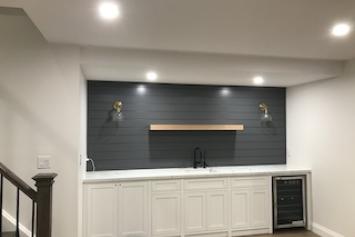 Residential Interior Painting
- Walls, Ceilings, Doors/Door frames, Baseboards, Window frames
- Crown molding, Wainscotting, Accent walls, Trim accent walls
- Hallways, Stairwells, Closets, Bedrooms, Bathrooms, Kitchens, Laundry rooms, etc.
- Railings, Spindles, Cabinetry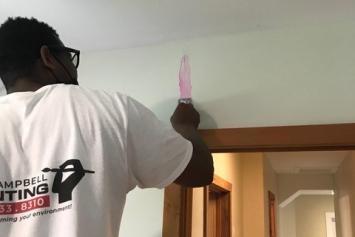 Residential Interior Prep
- Cover floors, Move furniture into center of room and cover
- Remove and reinstall switch plate cover
- Caulk gaps, Fill nail holes, Fix nail pops and imperfections
- Sand walls and ceilings before paint and in between coats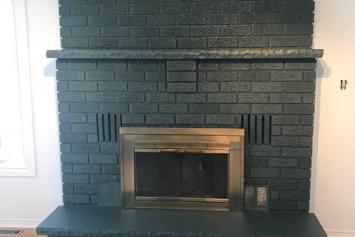 Residential Interior Specialty Services
- Drywall repairs, Water damage repairs
- Popcorn ceiling removal, Popcorn ceiling repair
- Dustless sanding
- High difficult areas
- Staining/ Painting staircases. Garage interiors/floors
- Basement floors
- Fireplace surrounds
- Colour matching
- Wall paper removal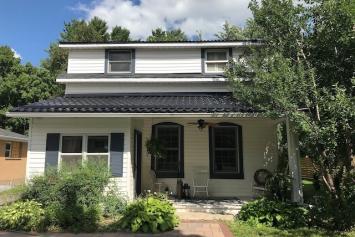 Residential Exterior Painting/Staining
- Spray/Roller/Brush application
- Paint Vinyl, Wood, Aluminum, Stucco and Brick siding
- Exterior window frames, Doors/Door frames, Shutters, Garage doors
- Soffits, Fascia, Eavestrough, Gingerbread molding
- Wrought iron fences, Wood fences
- Decks, Concrete patios, Sheds, Pool houses, Bunkies
- Pillars, Gazebos
- Colour matching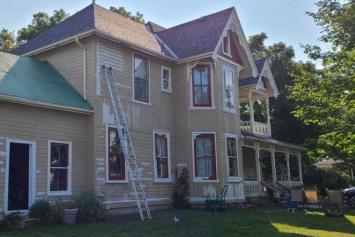 Residential Exterior Prep
- Power washing/Cleaning
- Scrape any loose peeling paint and sand surfaces
- Prime bare wood
- Caulk gaps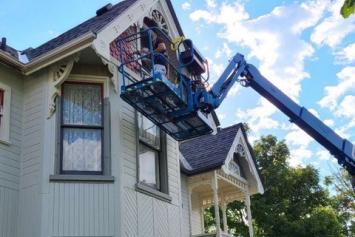 Residential Exterior Specialty Services
- High difficult areas/Work requiring lift trucks
- Power wash: Decks, Siding, Walkways, Pool patio, Docks, Eavestrough, Fascia
- Rotten wood repair
Stucco Removal… Without The Mess!!
Don Campbell Painting is now offering a quick and clean way of removing your unwanted, dated stucco. The old way of doing it was to wet the stucco and scrape it off by hand. As you can imagine, this way very slow and messy. Our system offers a unique combination where we can sand the stucco and extract the dust at the same time. We remove the stucco, prime the ceiling to reveal any imperfections that need to be fixed, fix these areas and then finish the ceiling with ceiling paint. The results in a much better product with very little mess.